Round aluminum plate is also known as aluminum circle, the alloys are mainly 1000 series, 3000 series and 5000 series, the tempers are O, H, etc. Round aluminum circle plate are widely used in lamps, lampshades, cookware, cooking utensils like pan, pot, electric kettles, thermal insulation chassis, rice cooker liner, rice pressure, non-stick pan, bottle, barrel, road sign, traffic sign, container and capacitor shell.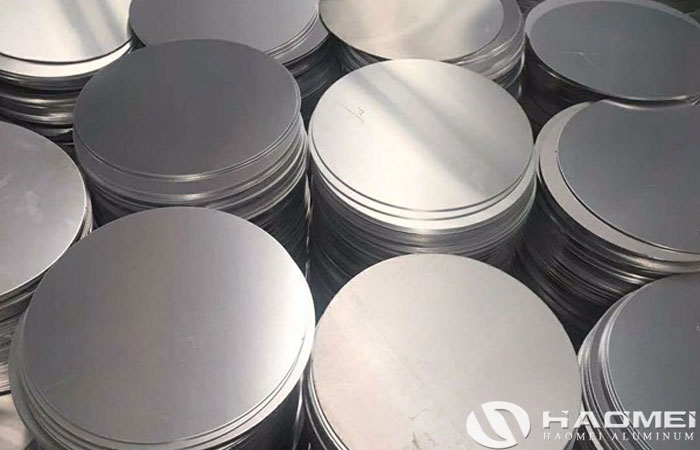 The detailed specifications of round aluminum circle plate are:
Alloy: 1060, 3003, 5052, 1050, 1070, 1100, cold rolled, hot rolled(DC and CC).
Temper: O, H12, H14, H18, H24, hard state, soft state, stretchable.
Thickness: 0.3mm-10mm
Diameter: 100mm-1250mm
The common seen aluminum circle are mainly 1050 O or 1050 H14, they has good toughness, is suitable for stamping processing, and is used for processing kitchen utensils, such as pans, pots, pressure cooker liners, etc. Stamping, spinning, deep drawing and stretching can carried out during the later production process, the aluminum circle disc do not crack. The electric appliances and cookware produced by the aluminum wafers have good heat dissipation, no rust, light weight and long service life.
Among the tempers of round aluminum plate, the O state is the softest, it is completely recrystallized by annealing, so it is the softest. H14, H24 reach a semi-hard state in different ways. H14 is work hardened and H24 is annealed to ensure performance. Their strength indicators are basically the same, but the elongation has a big difference, H24 is greater than H14.