Haomei is one of the dc aluminum circle manufacturers engaged in aluminum discs production and export for over 20 years. The high quality aluminum circles are mainly hot-rolled aluminum sheet, with good grain size control, and are suitable for deep drawing and stretching applications. Good deep-drawing performance, formability and welding performance make DC aluminum circles the preferred choice of many cookware buyers, distributors and importers. Haomei Aluminum provide aluminum circles DC and CC suitable for drawing into lamps, cookware, utensils, boxes, cans, etc.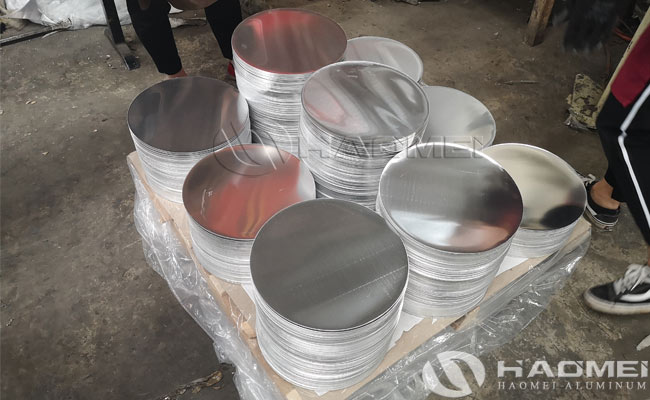 As one of the dc aluminum circle manufacturers with decades years experience, Haomei Aluminum always pursue high quality and sincere service. Mainly we provide 1060 and 3003 aluminum circle, Temper HO soft temper or semi-hard temper H14, O temper is soft and is more suitable for deep drawing. The DC aluminum circle is welcomed by cooking utensils and traffic sign company. It can meet the user's requirements for strength and rigidity, and its performance is stable and reliable, and it is very worth buying.
DC aluminum circle manufacturers Haomei is a famous enterprise based in China. 3003 aluminum circle is a high-end cookware raw material product in our current application market. Especially in the kitchenware field, storage field or some liquid fields, 3003 aluminum circle is used as the base material for the bottom plate. At present, it is more widely used in the entire market, such as in the field of rice cookers, all of which use 1060 aluminum circles as raw materials. However, high-end pots and pans generally choose to use 3003 aluminum circle as raw material, because the hardness of 3003 aluminum circle is much better than that of 1060 aluminum circle, and it also indicates that its lifespan will be longer.