Aluminum sheet circle for cookware pot 1050, 1060, 1070, 1100, 3003 are processed by continuous stamping equipment, the thickness is 0.4-5.0mm. Our company Haomei directly presses aluminum circles on aluminum coil, which has the advantage of fast processing cycle. At the same time, the stamping processing is completed automatically, so the aluminum circle surface finish is good. Currently, we have 20mm-1200mm stamping die, can be stamped to produce a variety of stretching aluminum circle for cookware and cooking utensils.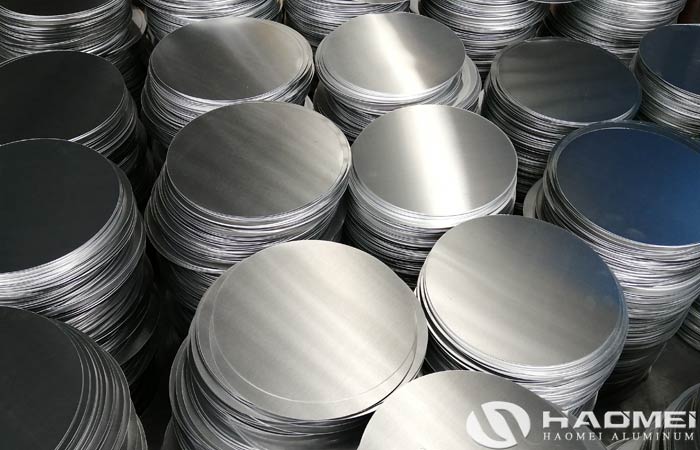 The aluminum circle sheet products are hot-rolled series, with high elongation and good anodizing effect. This type of aluminum circle sheet is mainly used in various kitchen utensils, cookware, containers, like pan, pot, rice pressure etc. The order quantity of DC aluminum circle needs to reach more than 1 ton, there is no burr on the edge and oil stain on the surface, so the drawing effect is good. Aluminum cookware is more conducive to heat conduction, energy saving and light in weight, so they are popular in European market.
The advantages of continuous stamping aluminum circle are the surface is exquisite, it is completely automated in the processing, continuous, high degree of automation, avoiding the scratches caused by human factors in the processing of old equipment, oil pollution, and high production efficiency, can produce aluminum sheet circle for cookware 2-3 tons per hour. At the same time, it is no longer necessary to carry out the width slitting process and directly press the corresponding aluminum coil to reduce the processing procedure.