Haomei is an aluminum circle for kettle supplier in China, we are specialized in produce high quality aluminium circles 1000, 3000 and 5000 series. The aluminum disc circles have alloy of 1050, 1060, 1070, 1100, 3003 and 5052, the thickness is 0.5-5mm, the diameter is 10-1200mm, the tempers are O, H12 and H14. Among them, the 1060 aluminum circle is famous of low cost, and 3003 aluminum circle is famous of anti-rust performance. So they are widely used for processing cooking utensils, kettles, lampshades and road traffic signs.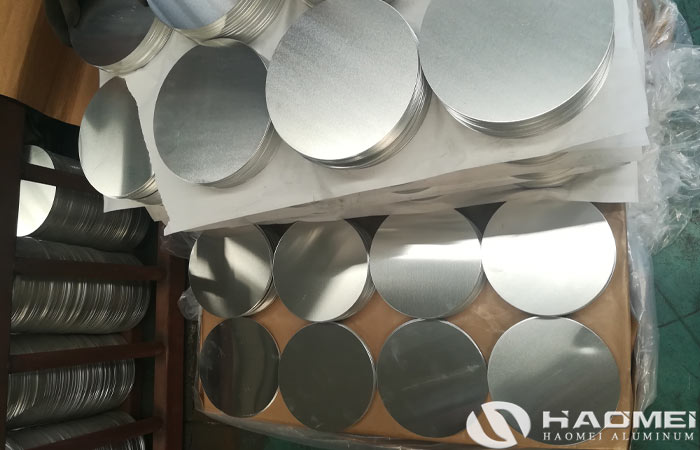 The aluminum kettles are produced by using a special stretching die, stretching, shrinking, annealing, bending and a series of processes. Soft temper is suitable for spinning and stamping, so aluminum circle for kettle with O temper are applied to producing aluminum pots, aluminum pots, aluminum fittings and lamps. 3003 aluminum circle is commonly used alloy aluminum disc, which has good anti-rust performance and easy to form. It is a good material for cookware manufacturing. However, when the 3003 aluminum circle cooker is usually treated, it will be handed over to consumers for use.
For the processing method in the product quality requirements, the aluminum kettle manufacturers usually performs oxidation treatment after pickling after 3003 aluminum disc stretching and the like. When we make the rice cooker bile, the surface treatment is generally performed, and after the acid washing, one side is sprayed and oxidized. If the customer's requirements for the surface of the aluminum circle are not high, we will do double-sided spraying after pickling after 3003 aluminum disc stretching. For those customers who require high quality products, aluminum circle for kettle supplier need to do pickled and then hard oxidized treatment after the initial processing.