Aluminium cricle 1100 ho dc supplied by Haomei Aluminum has good toughness and is suitable for stamping processing. It is mostly used for processing kitchen utensils, such as pots, basins, and pressure cooker inner pots. The DC stands for hot-rolled, the ho stands for the temper is soft, the surface finish of 1100 aluminium circle is good, with the advantages of high elongation and good anodizing effect. This type of aluminium circle is mainly used in various kitchen utensils, cookware, containers, etc.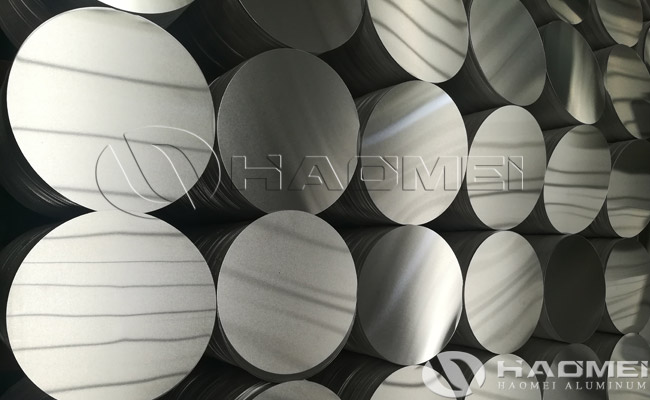 The hot-rolled aluminium circle dc has higher elongation and is suitable for products that need to be stamped and drawn. Usually the thickness of the aluminium circle 1100 is in the range of 0.4-5.0mm, and the diameter is in the range of 10-3000mm. Generally, aluminum circles are dominated by 1100-0 or 1100 semi-hard. In this case, the stamping dies and stampings developed during the mid and late production process are not easy to crack. Household appliances and pots manufactured by aluminium cricle 1100 ho dc have good heat dissipation, no corrosion, light materials and long service life.
Haomei Aluminum upgrade the aluminium circle machinery and equipment, and can independently carry out the production and manufacture of aluminum circles. Among them, the punching machine, scribing machine, quenching furnace and other machinery and equipment can ensure the high-end quality of the aluminium cricle 1100 ho dc, and the 1100 aluminum circle produced are exported overseas more than a dozen of our country. Based on continuous practical activities, are more skilled in technical work, The monthly aluminium circle production capacity is above 1,000 tons, and various customer requirements can be customized.