Aluminium circle sheet for pot usually adopt 1060 and 3003 aluminum alloy DC and CC material with thickness of 0.4-5.0mm. Aluminum circle is a preliminary processed product after continuous stamping from aluminum sheet coil. It is mainly used in lamps, kitchen utensils, electronic and electrical enclosures, etc. The temper of aluminium circle for utensils is basically selected as O state, and good extension performance is required. At present, the company's aluminum circles are mainly hot-rolled substrates, with good grain size control, which is suitable for deep drawing and spinning.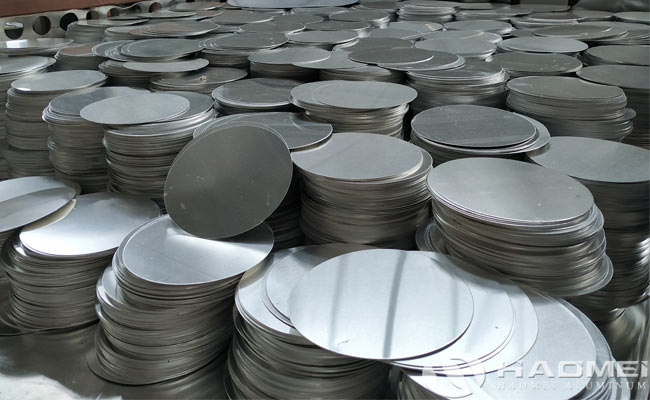 Aluminum circles of various diameters can be provided according to user requirements. For aluminum circle for stamping and drawing for cooking utensils, it has the advantages of high surface finish, no scratches, and high elongation. In recent years, the market share has been increasing. The aluminum circle sheet for making cookware has high thermal conductivity, as the production material of cooking utensils, the produced cookers can quickly transfer the heat of fire source to food, providing good conditions for cooking.
The application of aluminium circle sheet for pot:
1, Used for the inner pots of small household appliances (rice cookers, electric cookers, electric pressure cookers, bread machines, soymilk machines, juicers, air fryer, coffee pots, hot water pots);
2, Cooking utensils (non-stick pan, wok, steamer, milk pot, pressure cooker, enamel pot);
3, All kinds of aluminum containers, aluminum pots, aluminum pans, aluminum lids, aluminum boxes, tea boxes, aluminum barrels, aluminum cans, medicine cans;
4, Kitchenware, cookware, tableware, baking tools, bakeware, cake molds, toast molds;
5, Anodized kitchenware, anodized cookware, anodized tableware;
6, Hard anodized kitchenware, hard anodized cookware, hard anodized tableware;
7, Outdoor kitchenware, outdoor cooking utensils, outdoor tableware, wild coat pot, outdoor pot set;
8, Lampshades, lighting, energy-saving lamps, downlights, laminate lamps, street lamps;
9, Hardware parts, metal stamping parts, metal drawing parts, various molds, textile shuttles, etc.