Buy aluminium circle alloy 1050 CC DC with thickness of 0.5-6mm, diameter from 10-3000mm, please select Haomei as your supplier to save cost. 1050 aluminum alloy belongs to pure aluminum 1000 series with a small amount of copper element, with excellent forming and processing characteristics, high corrosion resistance, good weldability and conductivity. 1050 aluminum circle is widely applied in kitchenware such as non stick pot, pressure cooker and hardware such as lampshade, water heater shell, etc. Besides of 1050 aluminium circle, we Haomei aluminum also produce aluminium circle discs 1060, 1100, 3003 and 5052.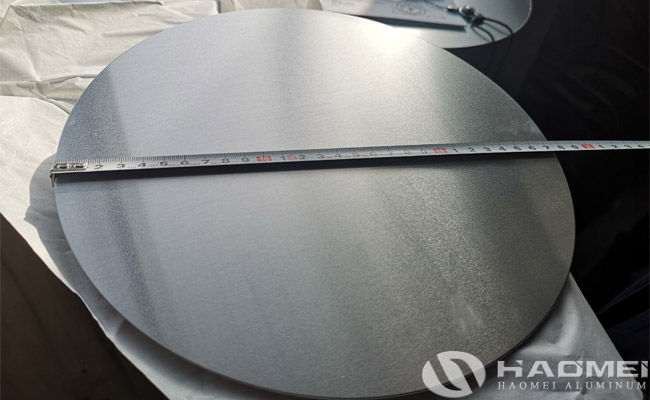 Aluminum circle 1050 is welcomed by our customers and win good reputation, when applied to processing end level product, the quality can be guaranteed, why do people select aluminum circle 1050 as the raw material for their business? Here are the answers!
1, Aluminum is nontoxic. In our daily life, we often see 1050 aluminum circle used to make containers for food and drink.
2, Aluminum alloy has high strength. Some aluminum alloys can surpass structural steel in strength, and have the characteristics of light weight.
3, Strong machinability. The machinability of aluminum circle is good. At present, the production of aluminum wafer in industry has realized full automation.
4, Formability. This is also one of the most important properties of aluminum and its alloys. Specific tensile strength, yield strength, ductility and other characteristics make it possible to produce different morphological characteristics.
5, Recoverability: aluminium circle alloy 1050has very high recoverability, because the characteristics of recycled aluminum are almost the same as that of primary aluminum.