Aluminium circle 1050 o for cooking utensils is widely used in foreign countries, Haomei 1050-O aluminum circles are mostly used for export to Middle East, Africa and South America. Because 1050-O aluminum discs has the thickness of 0.6-3.0mmm and the diameter of 90-1360mm, they have good toughness, they are suitable for stamping and deep drawing processing. In foreign countries, aluminium circles with soft temper are mostly used for processing kitchen utensils, such as pots, pans, high-pressure pots, etc.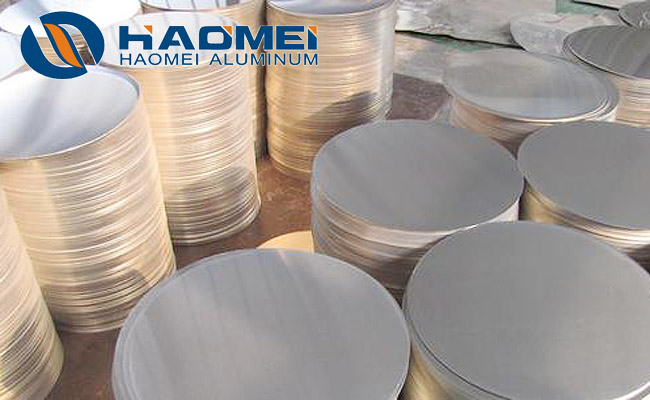 Generally, the common aluminum circle is mainly 1050-0 or 1050 semi hard temper, which will not crack during stamping and spinning in the later production process. The electric appliances and cooking utensils produced by the aluminium circle 1050 have good heat dissipation, no rust, light material and long service life. There are many products processed by aluminum wafer, including rice cooker, inner liner, some aluminum dissolvers, lamp cover, road and traffic sign, etc.
To the aluminium circle 1050 o, the O temper refers to the tensile material after annealing, which is used for tensile products. State H refers to hardness.
Besides of aluminum circle 1050 o used for making coo utensils, Haomei aluminum also produce other aluminum circle product, the aluminium discs product thickness is 0.4-4.5mm, can be customized as required. The aluminium disks product diameter is 90-1360mm, can be customized according to customer needs. The aluminium circles product tempers are O, H12, h14, H16, h18. The product purpose: it can be used for lamp reflection, billboard, signboard, bus body, fan leaf, electronic parts, kitchenware, decorations, etc The product features of aluminium circle 1050 o for cooking utensils are good elongation and tensile strength.