China aluminum disc supplier strictly control and test the alloy, temper and performance of the aluminum coil to ensure the accuracy and diversity of the aluminum circle provided. The surface performance of the aluminum discs is good, and it is guaranteed that there are no obvious scratches, oil stains, oxidation, black spots, etc. When the thickness of aluminum circle discs is higher than 1.0 mm, the edges of the finished aluminum circle product are guaranteed to be neat and free of burrs. The introduction of advanced and efficient production equipment improves the production efficiency of the aluminum disc and the utilization rate of materials, effectively shortens the production cycle, and provides customers with real-time convenience.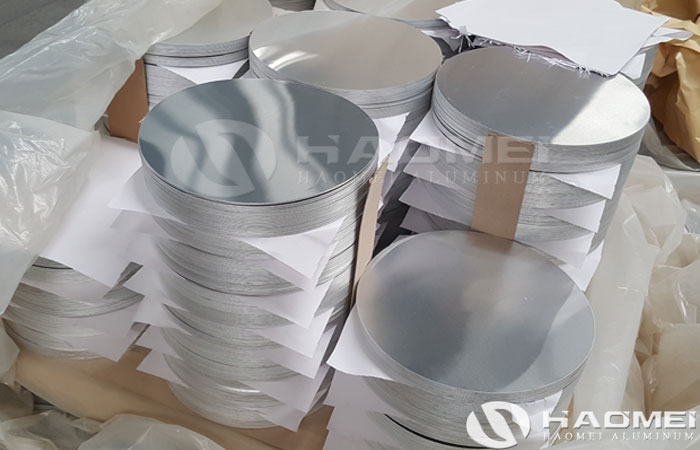 China aluminum disc supplier - Haomei Aluminium provide aluminum circles for drawing, aluminum discs for deep drawing forming of cookware, kitchen utensils, pressure cookers, utensils, cans, and aluminum wafers with a thickness of 0.5-4.0mm for processing and wholesale. Semi-duralumin aluminum discs for traffic signs with a thickness of 1.0-3.0mm are provided, which can be crimped and processed according to the diameter required by the user. Complete mold specifications, aluminum wafer processing and retail. We provide aluminum circle processing of various diameters and specifications all year round. Haomei Aluminum provides domestic suppliers of aluminum circle disc with high elongation and non-cracking.
To make aluminum wafers professionally, china aluminum disc supplier not only strictly control the quality of aluminum circles, but also provide customers with customized and convenient services through the introduction of advanced production equipment, and build a good reputation, so that Haomei Aluminum can stand out in the fiercely competitive market environment. There is a place in the industry. Haomei Aluminum undertakes various export and domestic orders, with excellent quality, professional packaging and dedicated service to help you open up markets and win customers.