The aluminum alloy discs mainly refers to the aluminum discs with alloy of 3003, 3004, 3104 and 5052 aluminium. And the tempers of aluminum alloy disc are O, H12, H14, H16, H18, H19, H32, H34, H36, H38. The surface of aluminum discs are required to be smooth, flat and clean, the aluminum discs can be laminated with film to protect surface quality, laminating film types are blue film, electrostatic blue film, transparent film, black and white film, laser film, paper clip, stamping film and stretch film.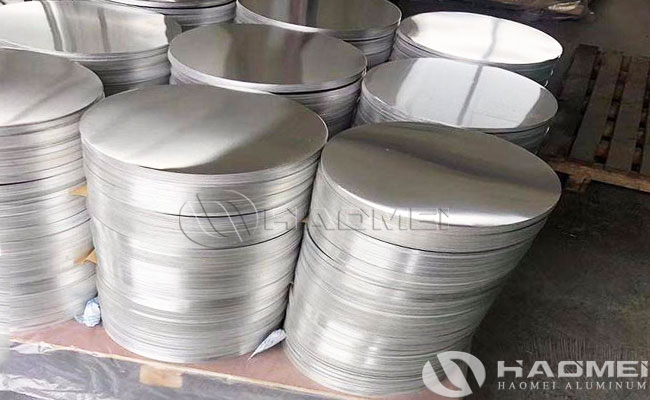 Haomei Aluminum is an aluminum alloy discs manufacturer based in China, regarding to the production line of aluminium discs, it has technical characteristics of:
1, Fully automatic production, no manual operation, no adjustments, fundamentally eliminates the aluminum discs production safety hazards and product quality hazards of ordinary punching.
2, The aluminum coil is directly used for aluminium alloy discs production, without the need for slitting and cross-cutting of the aluminum coil, which reduces the production process, reduces the production cost, and reduces the surface damage of the aluminum coil.
3, Make full use of the width of the aluminum coil to reduce the distance between the aluminium discs edge to a small amount, radically reduce the amount of waste, and make the raw material utilization rate reach more than 80%.
4, The production speed can reach 40-55 pieces per minute, which improves the production efficiency.
5, Using modular mold design, when converting aluminum discs production specifications, mold conversion time can be reduced. The diameter of the aluminium discs that can be produced ranges from 85 mm to 750 mm.
6, Uncoiling system, six-fold leveling machine, high-rigidity mechanical press, automatic palletizing system, etc., ensure the high quality of aluminum alloy discs products.