Aluminium disc material in china has low density, light weight, smooth surface, good extensibility and excellent electrical and thermal conductivity. Haomei Aluminum has become a large-scale, strong, complete variety and specification, and reputable aluminum discs manufacturer in China. Haomei Aluminum has won many honors with its solid strength and reputation in its years of development. The aluminium discs product manufactured by Haomei Aluminum have grades of 1050, 1060, 1070, 1100, 3003, the tempers have O, H12, H14 and so on, the thickness is 0.4-5mm, the diameter can be 20-1200mm.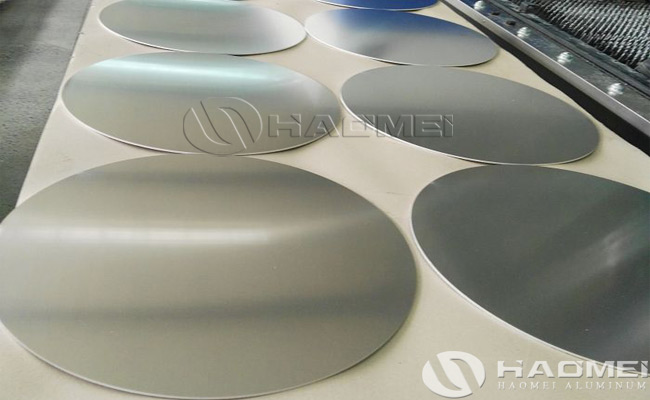 As a professional supplier of aluminium disc material in china, Haomei Aluminum is equipped with a fully automatic production line and special molds. The fully automatic aluminium discs production equipment is developed and produced by Ward Precision Machinery. Its putting into operation not only enriches the types of aluminum circles of Haomei Aluminum, but also improves the production capacity and efficiency of its aluminum discs. The company's main products are aluminum disc for kitchen utensils, aluminum discs for lamps, aluminum discs for cans, aluminum discs for liquid nitrogen tanks, aluminum discs for medicine cans, and so on. According to the different processing technology of customers, we mainly introduce 1000 series and 3000 series aluminium discs. Other series, such as 4000 series, 5000 series and 8000 series, can communicate with the company's technology in detail.
The aluminium disc material in china with a thickness of 0.4-5.0mm is produced, with smooth edges without burrs. The surface of the aluminum discs is clean and oil-free. Excellent elongation and grain size bring quality assurance for the subsequent deep drawing and spinning process. Next, we will continue to follow the national concept of low-carbon, energy-saving and environmental protection, continue to innovate, take technology as the core, regard quality as our life, regard users as god, and serve our customers wholeheartedly.